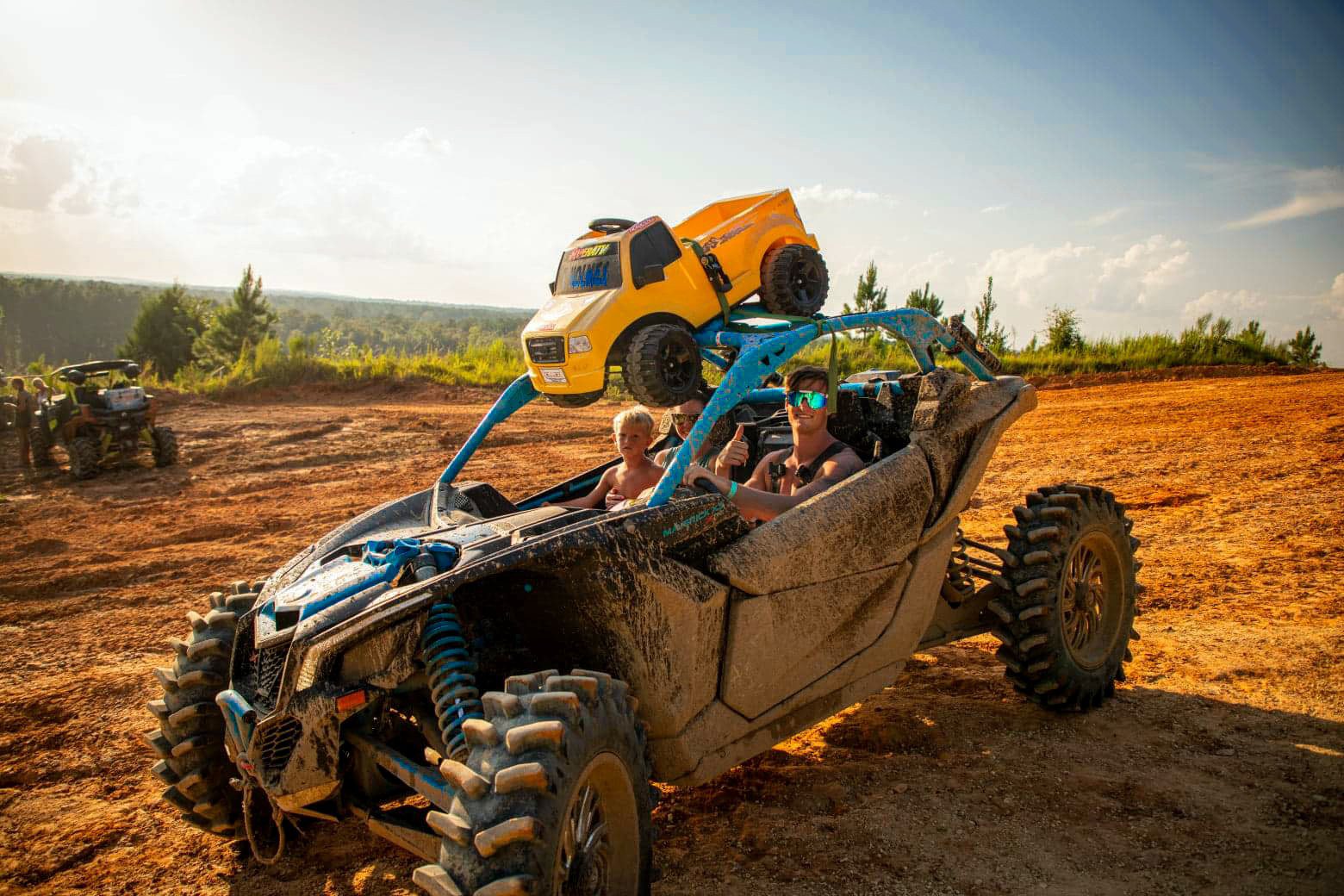 With Over 2,000 Acres and 250 Miles of Trails, It Is Impossible to Leave Our Park Without a Smile on Your Face!
Camping and


Adventure Park
in Brooklyn, AL
Spread over 2,000 acres and 250 miles of trails, Boggs & Boulders is your one-stop oasis for a weekend of unforgettable memories! We make it possible to enjoy all kinds of fun and adventure under one roof without any hassle. Our focus is to provide a great recreational facilities to make your weekend experience with us incredible.
Since 2008 we have been growing in size by improving our trails, events and more. We have a host of great accommodation options for our visitors, camping, miles of trails, endless mud, multiple styles of terrain, a natural cool pool with rope swing and cave to explore. if you get hungry a restaurant called the Mud Pie Cafe and different food vendors during event weekends.
Our Parks Amenities & Facilities
Boggs & Boulders is your off-road oasis for people of all ages!
Beyond the pavement
We have all kinds of fun and adventure at our park, including trails for all riding preferences. Our main trail is an old country dirt road, and off the main trail, you can find other trails, from twists and turns to mud holes and hills to climb.
Cool Pool
At Boggs during summer you can rely on cooling off in our "Cool Pool," fed by two natural springs! So come one down and spend a weekend in the summer to escape the heat.
Mud Pie Cafe
Need a bite to eat? Visit our Mud Pie Café with plenty of your favorite country eating, from burgers to Conecuh sausage dogs to fresh brewed ice tea. Serving breakfast, lunch, and dinner during open hours
Boggs Store
We also have a store located at the pavilion that offers ATV parts and accessories, waders, t-shirts, and  much more. Forgot to pack something important? Visit the store and shop whatever you need! We have toiletries, towels, and other home needs.
Need Gas?
We have non ethanol gas so don't worry about filling up your atv, sxs or car, and if you need to top your cooler off with ice before leaving the pavilion We've got you covered! Everything you need while you're off having fun at the adventure park. So get your family together and enjoy a weekend with Boggs & Boulders!
Pack Your Bags for a
Great Camping Experience
Whether you need a campsite for your camper or tent or you need a great accommodation at our place, we have plenty of options to offer. Nestled beneath a thicket of pines, you will find our 30 AMP campground that includes water and electricity. Upon the hill overlooking the 30 AMP campground and pavilion area, you can also find our 50 AMP campground. It includes a good supply of water, electricity, and sewage.

Camper and Bunkhouse Rentals
At Boggs & Boulders, we also offer camper and bunkhouse rentals. Currently, we have rentals that sleep eight to twelve people. If you're someone who likes to enjoy nature, feel free to pitch a tent anywhere on our 2,000 acres! Explore our accommodation options for more detailed pricing information.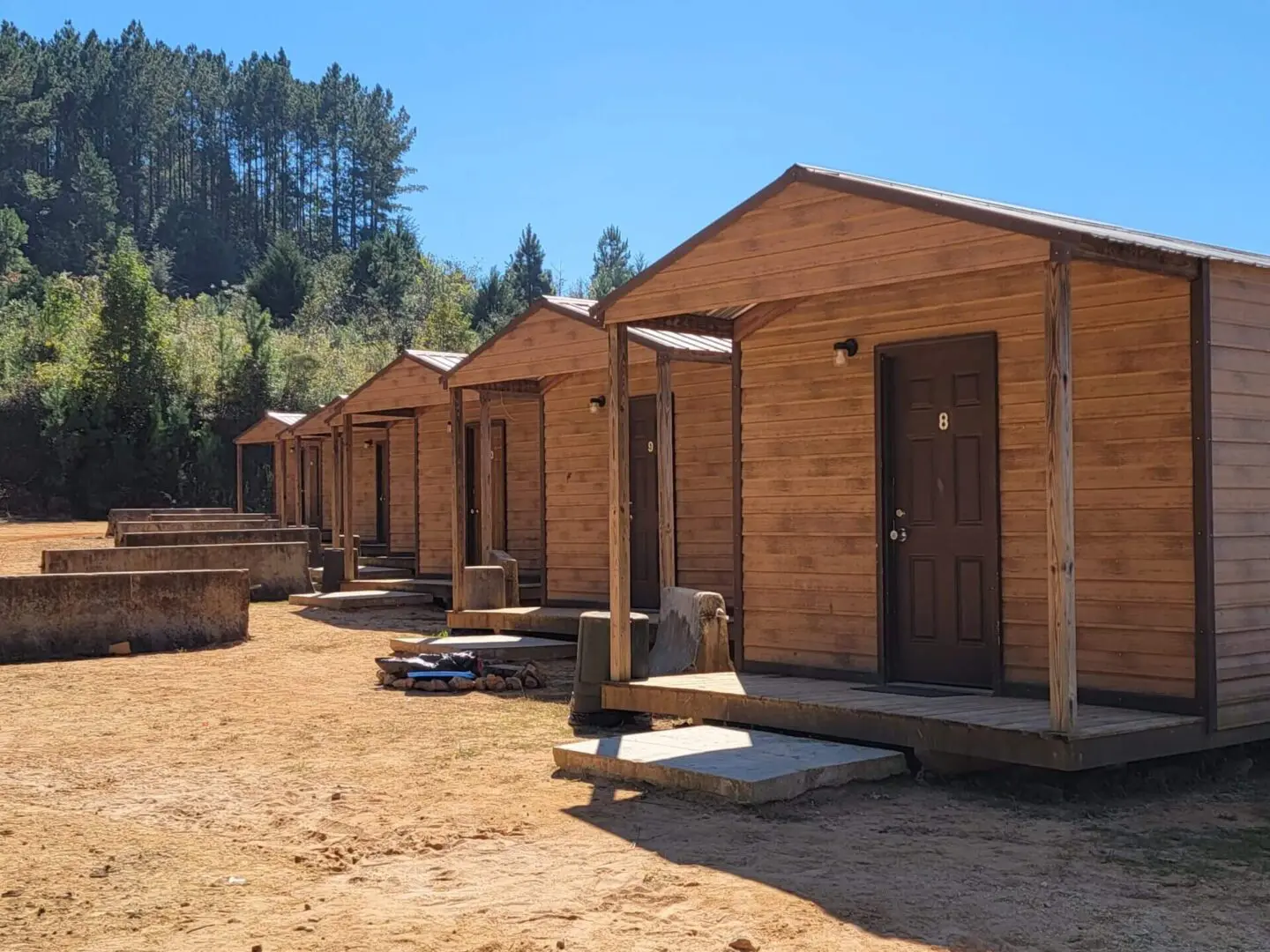 Boggs & Boulders was born out of inspiration and our love for seeing how much people enjoy being outside in nature. My family and I have been avid lovers of going beyond the pavement , and we wanted to share our get away with you! Our southern hospitality makes us different then most parks, and we know you'll enjoy every minute of your weekend vacation with us. Whether you come to relax at our Cool Pool, enjoy a beverage at the café, or explore the endless trails, we would love to have you with us.
Fun and Adventure
at Every Corner
Fun and Adventure at Every Corner
Bring your atv, sxs, golf kart, dirt bike, jeep, hiking gear, swimsuit, or even your 100-ton army truck, and have fun on our 2000 acres of property. We have lots of land to adventure at our park, including caves to explore.
You can have a relaxed picnic on one of the many picnic tables located along the water's edge in the shade. The Boggs & Boulders property has natural red hills, sandy hills, rocky hills, and steep rock bluffs with lots of mud. We have acres of black mudflats – both shallow and deep.
At Boggs & Boulders, our visitors' safety is our top priority. To ensure complete safety, we have a majority of one-way trailers unless marked otherwise. Our trails are wide enough for faster and more experienced riders who like speed as long as there is no harm. In addition, we have staff riding and monitoring actions to ensure your safety. Warnings will be issued for dangerous riders. In extreme cases, they will be escorted off the property. The same rules apply to the misuse of alcohol or drugs, which will not be tolerated on the property.
Cool Off at the Cool
Pool
Cool Off at the Cool Pool
Our Cool Pool is fed by a natural rock mountain mineral spring and holds a constant
temperature of 65 degrees all year round. The
pool itself is big as three Olympic pools!
The sand on the beach comes from nearby Destin, FL, by the dump truck to give ya'll a piece of the beach in sweet home Alabama. Come test your skills at the rope swing and make a splash into the cool pool or jump off our natural rock cliff if you like heights.
Rock Climbing and
Crawling
Rock Climbing and Crawling
We have the best natural rock mountainsides south of Birmingham, AL, which is unbelievably close to the Gulf Coast for all the rock crawling enthusiasts.
Our pavilion is a great hang-out site for anyone who enjoys off-roading! There are good meal options and refreshments and many opportunities to socialize with like-minded individuals. So visit us and experience the culture of the off-road community!
A Weekend Escape
from the City
A Weekend Escape from the City
Boggs & Boulders is located 16 miles from the nearest big city. Our winding country roads offer safe touring with minimal traffic in the surrounding areas. With plenty of nearby lodging facilities, we guarantee you an excellent vacation weekend. We also have water fill and dump stations available on site. There are hundreds of non-hookup locations to park on our 2,000 acres of land, whether you want to pick a spot under the shade or by the lake!